The battle was tight between Manchester City and Bristol City and in the end when nobody thought there will be another goal scored, Manchester wins 3-2. If you bet on Bristol's victory, don't be very disappointed.
Main events
Bristol started with a 4-5-1 formation with Reid in attack and Steele protecting the goal. Manchester opted for a 4-3-3 with Bravo as goalkeeper and 3 attackers: Silva, Agüero and Sané.
In the very first minute of the game at Ashton Gate, Manchester's John Stones shoots from the centre of the box but Bristol's goalkeeper blocks it. He has another attempt in the 14th minute but missed once again. 6 minutes later, Fernandinho is shown the yellow card for his strong foul. The game carries on and both teams have several missed attempts until the 43rd minute when Sané scores for Manchester City with the help of Silva. The ball was hit from the centre of the box.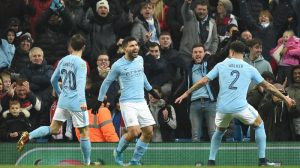 The first half ends after 3 minutes of overtime. When the game restarts, Bristol makes 2 changes: Baker replaces Björgvin Magnússon and Diedhiou enters while Walsh goes out. 4 minutes into the second half, Manchester scores again thanks to Agüero who shoots a ball from the right side of the box to the bottom left corner of the goal.
In the 64th minute, Bristol finally scores its first point through Marlon Pack assisted by Paterson. About 9 minutes laters, Bristol makes the third change: Paterson is out and Ryan Kent gets in. Later on, Manchester makes 2 changes: Gündogan for Agüero and Danilo for Walker.
The game receives 7 extra minutes. After 4 minutes of overtime, Bristol surprises the audience through Flint's shot that ties the score 2-2. After Silva is shown a yellow card, Manchester does the unthinkable: Kevin De Bruyne scores the final goal of the match in the 96th minute, thus securing the victory for his team. What an amazing game!
Match stats
Manchester dominated Bristol in terms of possession: 68% to 32%. They had 28 shots out of which 6 were on target. Bristol had only 5 but 4 them reached the target. Manchester had 10 corner shots while their opponents received none. As for fouls, Bristol was slightly nicer with only 7 fouls as opposed to the 9 fouls of Manchester.