Blackpool have endured a crazy season, and have certainly created headlines for all the right reason up until now. However, the end of those positive headlines may fast be approaching as Blackpool start to make it obvious to all that they are a side in possession of great skill but are also fatally flawed because of their lack of home form as well as their poor defence.
Having seen the Tangerines go down three nil to a well organised and effective Fulham side, the football odds on Blackpool surviving the season look worse than ever, especially given the fact that they have previously looked at least half decent when playing away from Bloomfield Road. The Blackpool betting now suggests they are in real trouble.
If Blackpool start to perform like this every week between now and the season close, then they may find themselves joining the list of clubs that have been one season wonders, enjoying fantastic results against great sides but failing to perform against the likes of Wolves and Fulham, subsequently ending up going down because they could not emulate the form they produced against the top sides regularly enough over the course of the season.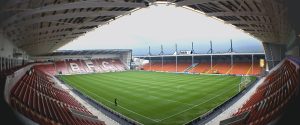 This failure has been made worse by the fact that this season has seen far more shock results than usual, a fact that has left the bottom of the table cluttered with sides that all have more than the usual number of points required to survive in the Premier League. If Blackpool are to survive, they will not only need a lot of luck, but also their manger to start to change his style so that Blackpool are not just playing the beautiful game but are also playing an effective game. If they cannot do this, then surely they are doomed, no matter how many neutral fans love them.