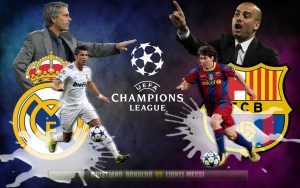 Spanish giants Barcelona and Real Madrid have both all but ensured the Champions League semi-finals will have an El Clasico as the stand-out tie. After watching bitter rivals Real destroy Tottenham 4-0 on the Tuesday, Barcelona went out the following evening and put on a European master-class in their 5-1 thumping of Shakhtar Donetsk at the Camp Nou. Those looking at the Champions League betting tips would be very surprised if things went wrong for either side.
The tone of Barca's win was set as early as the second minute as Andres Iniesta waltzed into the penalty area and slotted home. Half an hour later and the midfielder played in a magical ball to Dani Alves and the Brazilian stabbed home a second for the hosts. The tie was over after eight minutes of the second half, Gerard Pique's shot deflecting in to make it 3-0. It was one of the side's Champions League specials.
Shakhtar grabbed a slim lifeline just before the hour through Yaroslav Rakitskiy but it was a short-lived glimmer of hope, Seydou Keita smashing home a fourth goal less than a minute after. Xavi put the finishing touches on the beating with a tap in to send his side to the Ukraine with a 5-1 lead.
If Barca and Real do meet in the semi-finals then it will be one of four games between the two rivals before the end of the season. The duo will also battle it out in La Liga on April 16th before meeting again in the Spanish Cup Final on April 20th. After their performances this week it will be hard to choose between the two sides for who gathers up the end of season silverware.